Now I will introduce you to a brand new brand. To my regret, I do not remember exactly how I got on it, now it's even interesting. And I noticed it much earlier than it appeared in stores, more precisely so far only in one. The company is called Nikola, it can be one individual "mododel" – so far no information is available – not in the place of deployment, nor about any other available devices.
I think this manufacturer will still show itself, because the below described device (apparently pilot) is quite interesting.
Meet the two-pack adjustable sponker – Nikola Niagara Squonk 200W TC Kit .


Dimensions: 86.3 x 61 x 29mm
Weight: unknown
Housing material: zinc alloy + plastic
Power: 2 x 18650
Output power: 7 – 200W
Voltage range: 1.0 – 7.5V Operation
mode: POWER, TC (NI200, SS, TI), TCR, BYPASS
Temperature range: 200 ℉ – 600 ℉ / 100 ℃ – 315 ℃
Supported resistance: 0.1 – 3.0Ω
Protection: against low / high resistance, overheating, short circuit, reverse polarity, overcharge / overdischarge
Connector type: steel 510, pin spring-loaded
Screen / diagonal: yes
Micro-USB port / charging: yes , charging current 1.5A
Color: black, gan metal, rainbow
Niagara Squonk RDA
Housing material:stainless steel Atomiser
type: maintenance-free
Evaporators: 0.3Ω
Capacity: unknown
Diameter: 25mm
Height: 35.5mm with drip type
Connector: 510, pin gold-plated
Weight: unknown
Color: black, gan metal, rainbow
Package (approximate)
– Niagara Squonk mod
– Niagara Squonk RDA
– USB cable
– user manual
– warranty card
It looks impressive. Why I say this way, but at least because the design of the device in combination with the form factor is rather unordinary. All are accustomed in this segment to contemplate the devices of a fish-like form, and here you are, all in a row – a bottle / battery / battery.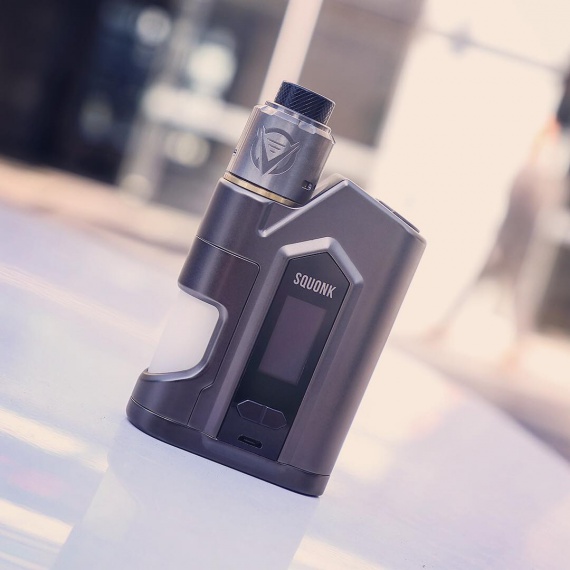 Naturally, we had to sacrifice a little acceptable, and it is better to say the usual, dimensions. Naturally, this happened with respect to the width of the box, the other parameters from this, on the contrary, won. Although, judging from the photos, thanks to the competent distribution of functional elements on the body, ergonomics turned out to be quite tolerable.


In my memory, in this manner, only the skonoker from 528custom Driptech-DS was executedand that is unregulated. However, our hero clearly reminds me of something, but I, as always, can not remember (also the squonker, only on one battery).
Landing even large in diameter atoms should be successful – the width allows. The control panel is located on the side, which is a very good solution, as for me. The button on the upper end of the fire, and even on a sloping platform – it will be just as convenient to use.
Well, now about the painful. There is no photo evidence, but I think that a silicone bottle of unknown capacity is extracted from the front, after removing the panel that fixes it. Batteries are hidden behind a detachable lid with a special latch on the bottom of the device. The fact that these two processes are divided is already good.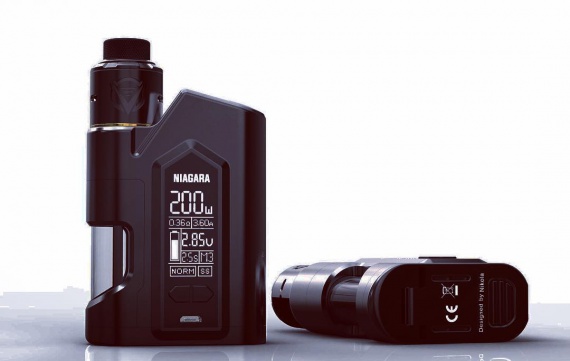 Performance is good, but what kind of chip is installed here as a "brain" is unknown, "but terribly interesting." We are waiting for reviews.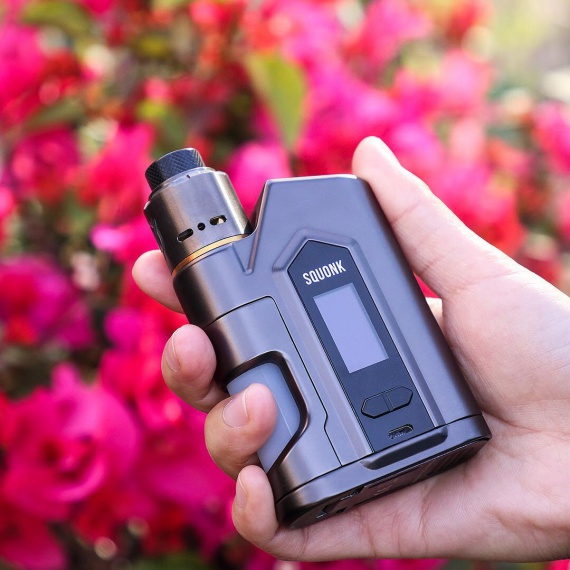 Now It's Available Here:Nikola Niagara Squonk Kit
Hot Sale Recommendation:
Vaporesso Luxe 200W TC Kit With Skrr Tank
Voopoo Vmate 200W TC Kit With Uforce T1 Tank 
JUSTFOG MINIFIT Starter Kit 370mAh
Vaporesso Revenger X With 5ml NRG Tank Kit